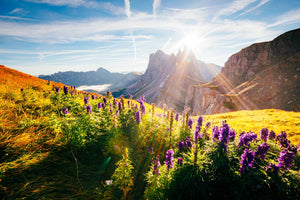 Italian Wood Carvings is an authorized importer of authentic, 100% hand-carved wooden sculptures and collectibles made in the renowned carving studios of Italy's Val Gardena region. We sell and ship these classical figurines to art aficionados around the world.

All but the largest figurines are carved from a single piece of wood harvested high in the Italian Alps. Artists sculpt the wood by hand from their own ideas, drafts, and sketches. Then talented artists decorate each piece with great care. The larger the wooden statue, the more elaborate the wood carving, painting, and details.
The Importance of the Linden Tree
In Europe, many legends center around the linden tree. Linden wood has been used for carving sacred works of art for centuries. The linden tree, which was often the village tree, played an important role in the lives of early Europeans.

Among the Germanic people, the linden was a sacred tree for couples in love; it was the tree that brought fertility and prosperity. Through the Middle Ages, artists carved images of the Virgin Mary and figures of the saints from linden wood, which they called lignum sacrum, or sacred wood.
Brighten your home with authentic hand-carved wooden figurines and collectibles from Italy.
If you are looking for a specific sculpture that you don't see on our website, please don't hesitate to contact us!